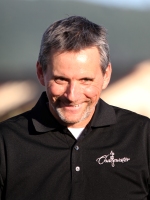 Paul Manuel
Owner/General Manager
Paul started working for the family construction company Manuel Bros., Inc. while he was in junior high and stayed with it for 30 years, working his way from laborer, to project foreman, to controller. Manuel Bros., Inc. was based in Paul's home town of Grass Valley, California. During his tenue over 700 underground construction contracts were successfully completed on time and in budget. AT&T Communications was the largest and most frequent client, being on their select bid list for over 20 years. Manuel Bros. was awarded, through competitive bid, contracts ranging from $100,000 to $23 million in size working all over the United States.
His blood and spirit, though firmly rooted in family, are also rooted in the earth and connected with the hard rock miners, his forefathers, of Chacewater, England. His great Grand Father Thomas Manuel arrived in Grass Valley California from Chacewater Cornwall England in 1880 working in the gold mines.
In 1988 he and his wife Kellye began designing and building a vineyard on their property and in 1993 they negotiated what turned out to be a ten year relationship selling their grapes to Fetzer Vineyards in Hopland, California. In 2004 Paul and Kellye began taking their grapes to Lake County for custom crush processing. Ready to try his hand at running a different sort of business, Paul acquired a 10-acre Olive Mill property in Lake County in 2008 and built a 10,000 square foot winery adjacent to the Olive Mill. In 2011, they release their first professionally made wines. Since establishing the winery and taking over operation of the monastery's olive mill, the winery and olive Mill has grown in production to just under 11,000 cases of wine and 2,000 cases of olive oil production. Chacewater now farms 30 acres of olives trees, and 36 acres of wine grapes. Paul holds a BS degree from California State University, Sacramento, in Finance, graduating in 1985.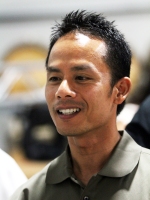 Emilio De La Cruz
Mill Master
Originally from the Phillipines, Emilio came to the U.S. when he was six years old and lived in San Francisco until 1989 when he joined the U.S. Army and served as a Power Generator mechanic for three years. While in the military, he was sent overseas during "Operation Desert Shield/Storm" in Kuwait, after which he received various awards and medals.
After serving in the military, Emilio worked for the Postal Service as a Letter Carrier in San Francisco and Alameda. In the fall of 1998, he chose to enter Saint Gregory of Sinai Monastery as a Novice. As a Christian with interests in iconography (the ancient techniques of religious artwork and paintings), he had a vision to live a life of prayer and become an icon painter at the Bay Area monastery. When the monastery relocated to Lake County to a 285-acre mountain side property in Kelseyville he went with them.
The monastery began building facilities in 2001 and Emilio was appointed Building and Facility Manager. In the fall of the same year the monastery acquired a 10-acre parcel that became the St. Gregory Olive Farm for which Emilio was asked to be Olive Mill Operator and Facility Manager. He has educated himself through books, classes and seminars and years of experience managing and operating the olive farm. When the monastery sold the Olive Farm and Mill to Chacewater in 2008, he worked closely with Paul to help train staff to farm and manage the olive trees.
Emilio joined Chacewater January of 2011 full time and will continue to produce the finest extra virgin olive oil.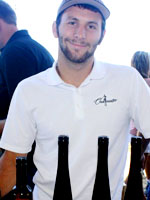 Lucas Manuel
Owner/Operator of Manuel Brothers Distributing
Just two years older than Chacewater's Sierra Foothills Vineyard, Luke grew up working in the vineyards along side his two brothers and parents. Inspired by the Chacewater family's hard work and a love for the land and vines Luke is now operating a distribution and delivery company in Phoenix, AZ.
Luke found his passion for promoting Chacewater wine and olive oil while living in Washington DC where he studied for his postgraduate degree. After moving to Phoenix Luke started a distribution company that caters to small boutique wineries and breweries. Coming from a family owned and operated winery Luke enjoys helping small business achieve their sales goals and gain recognition for their hard work.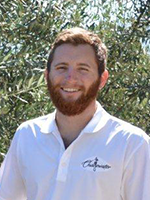 Matt Manuel
Vineyard Manager
The youngest of the three Manuel brothers', Matt was born the same month the Manuel's planted their very first vineyards in the Sierra Foothills. These vineyards have now grown to be Ponderosa Vineyards and supplies some of the organic grapes for Chacewater wines. He grew up with the vines and as a child, Matt could always be found playing in the vineyard. As he grew a little older, he became involved with the organic growing process and this led to Matt's love of agriculture and his love of working outside in the vineyard.
In 2012 Matt graduated from Purdue University with a Bachelor's degree in Agricultural Business. After graduating, Matt moved home to manage his family's Sierra Foothill vineyards where he grows 36 acres of the Organic red wines for Chacewater. Matt carefully oversees all aspect of the organic vineyard's growing process, from pruning the vines in the winter, to harvesting the grapes in the fall. Additionally, he works alongside Emilio during the olive harvest in the winter to mill Chacewater's extra virgin olive oils. Matt's goals are to improve the land through organic practices and produce high quality and healthy grapes for Mark to be able to continue making spectacular wines for you to enjoy.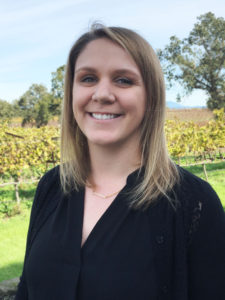 Kara Manuel
Marketing & Operations Manager at Manuel Brothers Distributing/Chacewater
Wife to Lucas Manuel, Kara also grew up in the Sierra Foothills. She has a passion for product marketing and a love of good wine. With a degree in Fine Arts from Purdue University Kara gained a keen eye for design and an interest in what draws customers to products. 
Kara joined the Manuel Brothers and Chacewater team full time in 2018 and is enjoying being able to bring a new perspective to the family company. Coming from a small town and joining the family business Kara has a great appreciation for small wineries with quality organic ingredients.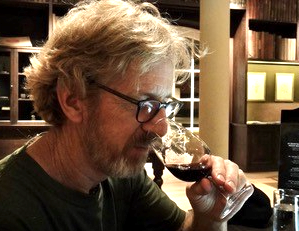 Derek Holstein
Consulting Winemaker at Chacewater since 2018
Derek has helped guide and monitor our young winemaking team in producing exceptional wines through his precise knowledge of all wine production from the vineyard to bottle.