Chacewater. A small village on the Southern tip of England and the origin of the Manuel family tree.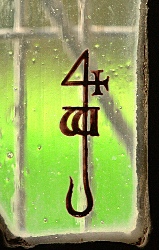 The symbol. The mark of a Chacewater church craftsman.
Chacewater Winery & Olive Mill is family-owned and operated. We are located in Kelseyville, a town tucked away in Lake County, California. We take pride in producing wines, Extra Virgin Olive Oils and soaps of the highest quality, sourced from select vineyards and estate-grown olive trees. By producing only small lots and using only the finest natural ingredients we are able to produce artisanal products of distinction.
The name Chacewater honors our ancestral family in Cornwall, England. Because of their adventurous and hardworking nature, we are able to fulfill our passions today.
We sell our products at the winery tasting room, online, through select boutique retailers, at neighboring farmers' markets in Northern California, and at our vineyard in Nevada City, CA.
Paul and Kellye Manuel's roots both go back to Cornwall England. The Cornish were excellent tin miners, and Paul's great-grandfather brought this expertise to the Gold Country. On a visit to the family church in the village of Chacewater, a mason's mark caught Paul's eye. This is now their logo, to honor their pioneering roots. Paul worked in the family's construction business on 80 acres outside of Nevada City. When a devastating fire in 1988 swept through the land, clearing it, he decided to see if he could grow grapes. In 1988 they put in their first 10 acres and earned a reputation for exceptional quality for their organically grown fruit. They expanded to 36 acres, selling fruit to big wineries such as Fetzer. In 2004 they tried a custom crush in Lake County and sold it as bulk wine. In 2008 they purchased a 10-acre olive farm and mill from a local monastery and built a 10,000 sq. ft. winery next to the mill. A county superstar, they rapidly progressed from their first release in 2011 to being the "Golden State Winery of the Year in 2012."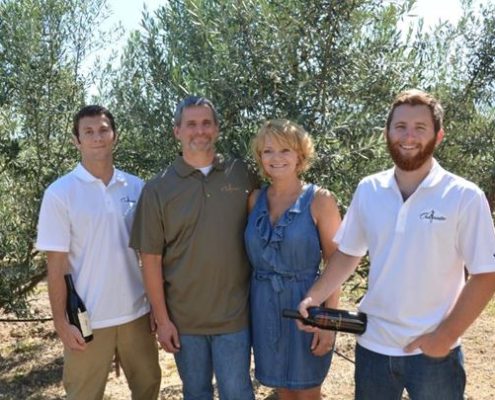 Chacewater Winery & Mill is a true family concern. The family's remarkably strong work-ethic (which they attribute to their Cornish gold-mining roots) has seen them turn a devastating fire into a golden opportunity. Paul and Kellye Manuels' decision to plant vines on their land after a fire cleared it 30 years ago–has proven to be a very good one. Paul, had previously ran multi-million dollar construction projects, but felt those mining roots drawing him back to the land, and that somehow his "blood and spirt" was "firmly rooted in the earth." The love-of-land gene has been passed down to the next generation (of three boys who grew up playing and working in the vineyards). Matt the youngest son, who was born the same month the first vines were planted, is now a passionate organic farmer. He manages the family's Ponedrosa Vineyards, ensuring winegrapes of exceptional quality–proven by their many award-winning wines. The Manuels' also source fruit from carefully selected local growers. Their 2014 "Nell Cabernet Sauvignon Red Hills Lake County" won an impressive 93 point score from the Wine Enthusiast magazine.